YoloArts and The Barn Gallery present:
Artists in Critique
The use of dialogue to strengthen the results of the creative process will be on exhibit in the new The Barn Gallery group show, Artists in Critique. The show opens Thursday, November 16 at YoloArts' The Barn Gallery in Woodland.
The artists featured in the show, and members of the critique group, are: Joy Bertinuson, Linda S. Fitz Gibbon, Ianna Nova Frisby, Anne Gregory, Lisa Jetonne, Jennifer Kim Sohn, and Susan Silvester. Artworks include painting, pen and ink, ceramics, mixed media, assemblage, sculpture, and installation art. A wide variety of themes range from the environment, social justice, and gender stereotypes to geological wonderment and nature.
The focus of the group, mostly from the Sacramento and Bay Area region, has always been to help each other, using the language of critique. During their once-a-month meetings the artists take turns presenting their artwork and receiving feedback. This format also provides accountability, motivation, and validation of their artistic endeavors.
"These artists meet monthly to support one another and expand their creativity,  resulting in a provocative and accomplished collection of work that clearly reveals the driving passions and skill of each artist," said Janice Purnell, YoloArts creative director.
The critique group was also developed as a way to counteract the isolation that can be experienced by professional creatives. Artist Silvester says, "Creating art can be a lonely endeavor at times, and having a community that understands the challenges and triumphs of being an artist is invaluable. The group consists of artists with various backgrounds and styles which bring a diverse range of perspectives. The diversity has broadened my horizons."
In addition to the artwork in this exhibition, The Art Advice Booth will be open in The Barn Gallery on select Saturdays during the show's run. In 2015, artists Gioia Fonda and Ianna Frisby created The Art Advice Booth, modeling it after the Psychiatric Help booth featuring Lucy in the Peanuts comic strip. The booth has become a nomadic community resource for artists and people interested in art to engage in art discussions with professional artists.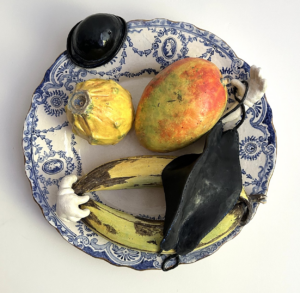 "The Art Advice Booth was created to provide a safe space for visitors to feel free to ask artists questions about art and although it had its beginnings as a cheeky way to begin conversing about art, we have actually provided needed advice to many of our visitors, so it does feel like we've saved a few souls by the end of the shift!" artist Frisby enthused.
The artists will attend the opening reception, 5:30 – 8 p.m. Thursday, November 16. Light refreshments and Yolo County wine will be available. Music by Jon Spivack. At 6 p.m. each artist will talk briefly about their work.
The artwork can also be viewed (and purchased) online at yoloarts.org/online-galleries.
Artists in Critique continues at The Barn Gallery through February 24, 2024.
Regular open hours of The Barn Gallery are Wednesdays and Thursdays 2:30-5 p.m., select Saturdays and by appointment. The Art Advice Booth will be open Dec 2, Jan 13, Feb 10, and Feb 24 from 12:30-3pm. An exhibiting artist will be available for conversation, and art advice with gallery visitors.
The Barn Gallery is located at 512 Gibson Road in Woodland. For more information contact YoloArts at 530-309-6464 or ya@yoloarts.org.
For information about the exhibition contact:
Janice Purnell, YoloArts Creative Director
530-309-6464,
jpurnell@yoloarts.org