In August, Art & Ag artists visited Pine Trails Horse Ranch in Davis. "This is good horse country" says Michelle Haseltine, who ought to know. She and her husband Matt, have owned and operated the 21-acre Ranch for the last 30 years. "Pine Trails is one of the busiest year-round lesson facilities you'll find in the region," Michelle says. Some of her students come from as far afield as the Bay Area to take weekly lessons.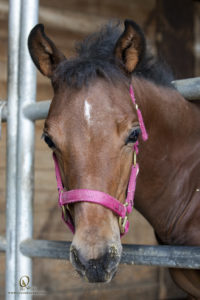 Michelle's love for horses runs deep. She grew up riding them since the fourth grade in Foothill Farms near Sacramento. She started training horses as a hobby while studying Genetics at UC Davis and working for the USDA in pest management. When she and her husband (a local general contractor) moved onto the property in 1990, she began training rescue horses and teaching riding lessons on the side. Then "one thing led to another" and her passion became a full time enterprise.
They now have a dedicated following with a core staff of 10 instructors– half are her former students some of whom started taking lessons when they were 6 years old. "A large portion of our staff are individuals we've raised into professional horse handlers." They welcome every level from those who have never ridden to accomplished riders.
Although only miles from Davis the ranch is a world unto itself. The presence and sound of horses (there are 55 of them comprising 12 different breeds), the weathered wood of the barns and stalls, multiple corrals and riding areas, the dry slough that runs through the property give it a definite "Old West" feel.  
"We just wanted a place where people can ask questions and explore. Horseback riding does so many things for kids giving them problem solving, spatial skills and the ability to focus and trust themselves. You don't make much money but it's one job where you make an impact. People come back and say 'this place made a difference for me', says Michelle.