As we head into Fall, it comes as something of a surprise to see rows of young bright green vines as you enter the new Grindstone Wines' Vineyards and Tasting Room.The 8 varietals were planted only 4 months ago and are still being irrigated to gain root strength as we head into Winter. "We call them our Baby Vines" says Tierney Bates, Brand Manager of Grindstone Wines. Like these young vines Grindstone's tasting room is also new. Opened in July 2020, this family-owned business was finally able to fulfill a dream of a brick-and-mortar to share their wines.
In 1997 the Doherty family, who has farmed in Colusa/Yolo counties for 4 generations, wanted to diversify the family farm and decided on wine grapes. "My Grandpa & Uncle planted our first vineyard in Arbuckle. At the time it was 25 acres, we are now at 160 acres." At first they contracted the grapes to larger distributors, then in 2010 they started making wine for themselves. By 2016, they wanted to make the leap to open a tasting room. They chose Yolo County says Tierney because "it is a good location for vines and for expanding our customer base. Every weekend we have new people that find us."
Working side by side with owners and growers Mike & Amy Doherty, is their niece Tierney and their daughter Molly. Tierney and Molly help with daily operations, manage the wine making process, bottling, marketing, social media, events and wine club. In 2010, when the family was choosing a name for their label, the adage Tierney's grandfather, Mike Doherty Sr., would often say- 'Keep your nose to the grindstone' – came to mind.
.     
The heart of the property and new vineyards is the original 1970s farmhouse which has been renovated into a tasting room with large picture windows looking out onto a panoramic view of the valley and Pacific Coast Range. A variety of trees provide a welcoming ambiance. "We want our guests to feel like they're home, in their own backyard."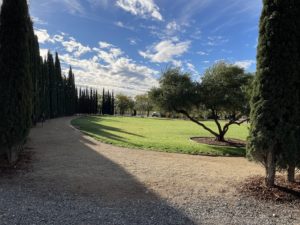 Behind the tasting room is a private grassy area enclosed by cypress trees, with an expansive green lawn where guests (and artists!) can picnic or relax with a bottle of wine from the tasting room. "We're happy to pour wine for people again after being closed for so long due to Covid," says Tierney.
Artists enjoyed setting up their easels on the patio or ventured down nearer to the vineyard to paint. "It's so peaceful to be out here," says Tierney. "It is still close to town – but you feel like you're somewhere else."