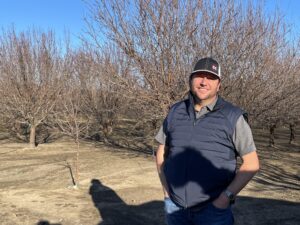 Art & Ag kicked off our farm visits in 2023 with a visit to Barrios Farms in  Zamora to experience the first almond blossoms of the season. This 150 acre orchard sits high on a hill and looks down upon a vista of green hills and valleys that stretch away on all sides. "From a scenic perspective this is one of my favorite locations," says Wayne Barrios, of Barrios Farms. Wayne, along with his brother, Bryan, and their nephew Tom, are 3rd and 4th generation growers who have specialized in diversified crops from Woodland to Dunnigan since 1942.
This captivating combination of rolling green hills and blossoms is one of their more unique locations. "Most of our crops are grown on flat parcels of land, nothing this extreme, but we wanted to give almonds a try in this location. We planted Monterey, Winters and Nonpareil varieties in 2017 and are surprised to see how well they took off."
"There are definitely challenges to growing in this location. The almonds are difficult to harvest for one thing, and we have to water the orchard one section at a time due to the varying elevations." In addition, this is a certified organic orchard which is a much more labor-intensive process. "It's tough work but it's worth it and gratifying to be able to supply organic almonds into the market."
Rain or shine, Art & Ag artists enjoyed coming out to paint and photograph among the blossoms. Thank you to the Barrios family for hosting the artists!