Artists had the privilege and delight of visiting the beautiful Yolo Land and Cattle in April. After entering the big metal gate onto the property, artists were greeted owners Scott and Karen Stone on Thursday, and Casey Stone on Saturday. Both days they were also welcomed by a group of friendly horses who grazed near the entrance surrounded by vintage farm structures set against the backdrop of native oaks and rolling green hills.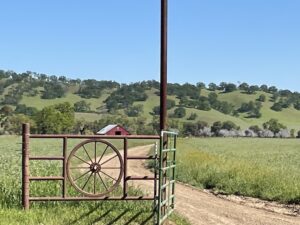 Driving a few minutes more artists reached another gate which opens up dramatically onto 2000 acres of spectacular green terrain that marks the beginning of the Blue Range mountains in Western Yolo County. Here they found Yolo Land and Cattle's signature red barn and beyond that, hills and meadows dotted with an array of wildflowers, and of course, cattle.
"This is as good as it gets", says co-owner, Scott Stone, who predicted a "phenomenal" display of wildflowers just in time for the artists. A definite springtime 'perk' of a cattleman's job, which Scott describes as follows: "A cattleman's goal is to break even. A cattleman's dream is to have two good years out of ten. Rain and cattle prices have made this a very good year." Scott should know. He has worked on this ranch since 1983.
This 7500 acre ranch was established by his father, Henry H. Stone and wife Suzanne in 1976. Henry was the family geneticist who developed the Black Angus/Hereford cross as the best breed of range cattle for this part of the world. Scott's brother Casey joined the family business in 1991 and along with their wives and children continue the family legacy.
While running this commercial cattle operation, Scott is also a leading voice for sustainable ranching and agriculture. He is actively engaged in carbon sequestration and ranching conservation, and is a member of the team at California Rangeland Trust which has been instrumental in preserving land for the Swainson's hawk habitat conservation plan, and securing conservation easements in the Yolo Bypass, among others.
Scott's commitment to sustainable ranching continues at Yolo Land and Cattle where he partners with compost facilities in Yolo to spread mulch over the ground and uses cover crops – like sweet peas – for grazing and to prevent weeds and erosion.
Beyond the barn and standing out somewhat incongruously to the Old West setting are the modern white buildings of the Zipline International Drone company, another sign of Scott's humanitarian commitment. The buildings and catch poles mark the 2-acre testing ground for a project that uses drones to deliver blood and medical supplies to inaccessible regions of Rwanda and Tanzania – cutting delivery time from many hours to around 30 minutes. Some of the artists were able to catch a glimpse of these quiet drones in action.